Hi all,
How is everyone feeling? We are moving into the height of summer sunshine here in London, I do welcome the extension of daylight in hours, sometimes I don't even notice how late in the evening it is when I go to close the laptop for the day. I hope many are taking some deserved summer holiday breaks to refresh and declutter the mind.
Truth be told I haven't made much time for tutorial writing, that and, well I haven't had any crazy ideas to share.
That being said, this blog will be a monologue of my recent builds, thought patterns behind them and hopefully just a bit of a brain dump that others might be able to do something more meaningful with.
So throw back, 8 weeks ago, I built a violin chart on stage.
Now it was a little marmite, and irrespective of the competition, I actually really enjoyed learning about the chart type and also reflecting on individuals opinions on its practical use. It was a chart I had never built before in my career, and that alone brings me a lot of joy doing something new. Feels like I'm growing.
If you'd like to learn more check out the blog on how the build works here.
But, It sent me a down a bit of rabbit hole. What does the chart really show? Why is it useful? Was it complex for the sake of it? Where are the difficulties in interpreting the chart type?
And you may have seen me slightly facetiously present my own bias on why I think the violin is a 'good looking' chart compared to is evil stats twin whilst at the North West TUG. With a few clickbait slides on whether visual best practice always matters, I wanted to gauge how people felt about experimenting with other charts and why my violin chart was out of tune.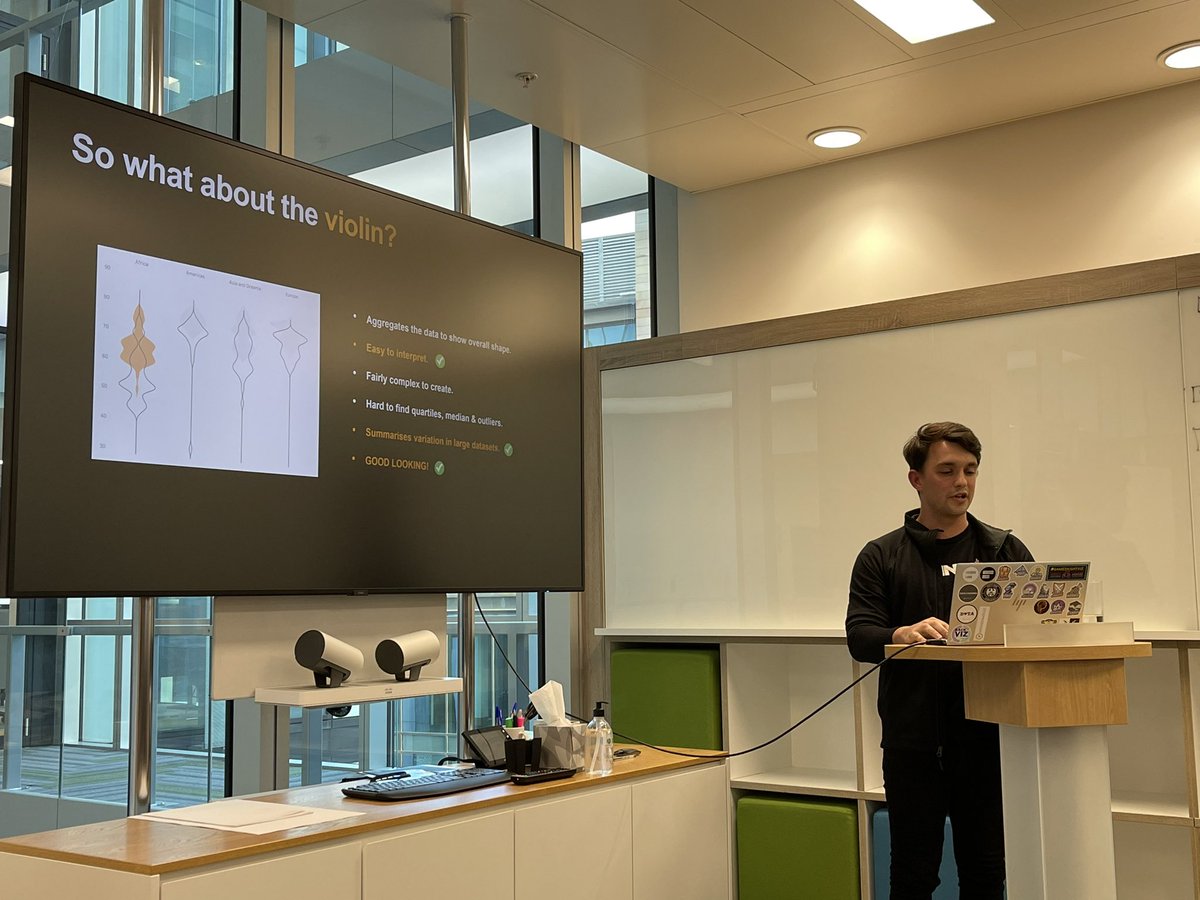 Originally tweeted by Neil Richards (@theneilrichards) on 5th Jul 2022.
A moment of reflection, why did I think the violin worked well?
Well, we see where the main bulk of the data sits. We can gauge quite easily things such as minimum, maximum and vaguely we could hazard a guess at where the interquartile range sits. It works great for a simplified overview. Finally and most importantly in this case we got to see the change over time with plotting a previous line, with a polygon current.
So I started to experiment with different ways of showing it visually.
And whilst, I think the disjointedness in symmetry still works aesthetically, it doesn't solve some of our issues.
It further raise the question, is there anything we can do to improve it as a chart type to bring out some of the following missing elements.
How do I bring data in from not being at an aggregate level?

How can I find the quartiles, medians and outliers?
Where do I turn in a moment of need? Well to my favourite part of Tableau, layers!
So I reunion the output of my violin and stack it with a full outer join with my original dataset. Now I am able to plot all my original values at a more granular level. A few more extra bits and pieces to tie the previous value with a line to the value on the right to see the shift over time and it actually feels like I'm getting somewhere.
But I'm still not focusing on quartiles, medians and outliers. At this point, Maybe the boxplot was all I ever needed?
The box plot after all:
Has a granular level of life expectancy for each country.

It is easy to interpret

They are easy to create

We can find the quartiles, median and outliers

We can summarise variations in large datasets very easily
Who knows, I'll let you decide. Either way, I'm glad to have gone down this thought path and learnt a bunch of calculations along the way.
To finalise, here are a few things I saw in the community in the last few weeks that really excited me. Firstly, at the NW TUG we even started talking about pyramid type charts with bars and bins. We even started to discuss whether what I ended up with is really even a violin chart?
I saw this great example online calling it a corset plot, looking at changes in drinking days.
I came across this lovely animated piece more recently on twitter looking at employment levels over time. I loved the animation piece to it, as well as the design having the values down the centre. I wish there was a way to animate opacity…. Imagine how incredible the seamless storytelling could be.
Finally, this piece from Ansgar. Does it finally tackle how I could have looked at quartiles and median using a bar over polygon?
So I guess, I'm playing all the right notes, just not necessarily in the right order.
LOGGING OFF,
CJ